If your home has recently suffered storm damage, you can count on Zion Roofing for all of your contracting needs.
We take the hassle out of insurance claims. Instead of filing a claim and gathering bids from separate contractors for the roof, siding, gutters and windows, count on Zion Roofing – a turnkey contractor that can manage every step of the insurance and contracting process for you.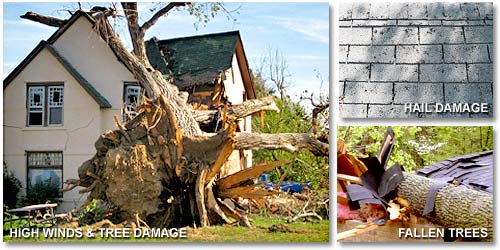 We are Storm Damage restoration specialists
Zion Roofing has years of experience working with insurance companies. Zion Roofing has handled thousands of claims like yours. We will explain the insurance claims process in detail.
Zion Roofing can handle any type of claim – from a small scratch on siding, to a fallen tree, to a completely new roof.
Zion Roofing offers a no obligation first consultation and inspection of your property.
We explain the repair process in clear language so you fully understand the storm damage
Working with Insurance Companies
You may be nervous about dealing with insurance companies. Don't be! With Zion Roofing, you're not alone. Our unique combination of restoration contracting and insurance recovery experience will help ensure that your repairs are done on time and that you will receive the money due on your claim in a timely manner.
With Zion Roofing you will have hired the region's best contractor to meet with your insurance provider, process your storm damage claim, and complete your restoration in a timely and professional manner.
We work with all insurance companies and have a solid reputation for handling the insurance process with minimal intervention from the homeowner. We receive referrals from many insurance companies, and are listed as an approved contractor of choice.
A question we often hear is: "Won't my insurance rates go up if I turn in a claim?" In general, a storm large enough to cause hail, wind and/or fallen tree damage will affect a large area; rates go up for the entire state. In that case, your rates will go up whether you turn in a claim or not. Don't accept higher rates and damage that goes unfixed!
To save time as the restoration process begins, please have your insurance policy and policy numbers available. If you do not have this information, contact your insurance agent; they will be able to assist you.
Our Materials are Guaranteed
Zion Roofing prides itself on using the best roofing and siding products. We have long-term partnerships with established manufacturers, and the products we use are covered by the manufacturers' warranty.